Bryley Information & Tips · January 2021
Keep Calm and Carry On
Disasters come in all shapes and sizes: from human error and malicious attacks to hurricanes and sinkholes, to lightning strikes, bio-hazards and rodent infestations. Should any of these happen, do you have a good sense of the cost of downtime to your organization? … [3 min. read]
Bryley Now Supports Apple Products
Bryley is excited to announce that it is one of a few New England IT providers that have an Apple Certified Support Professional (ACSP) tech on-staff … [1 min. read]
The Hungry Mind of Ethan Brush
Eleven-year-old Ethan Brush envisioned a life of adventure as an NSA agent, but knew it would require serious discipline to accomplish what he wanted. So Ethan decided — at almost the youngest age possible — to join the Naval Sea Cadet Corps. He stuck by his trajectory …
Is There a Better Endorsement?
Carol Bailey is Bryley Systems' new Managed Services Administrator — monitoring premier clients' systems. But just a little while ago Carol worked for a Bryley client … [3 min. read]
Tech News Mixtape
Welcome to a new feature in which Bryley points you to stories at the intersection of business and technology. We hope you'll find these stories as groovy as we do.
Here's a cybersecurity roundtable brought about because of the risks of the Capitol incursion. In some cases [computers] were still turned on and logged in, as their users were forced to quickly evacuate. The story includes advice about dealing with similar risks to our own organizations — when people have to unexpectedly leave their machines. securityweek.com
One of the tenets of cybersecurity awareness training is knowing the website you're visiting by watching the URL (address at the top bar) of the web browser. This reported move by Google to more fully replace URLs with plain-language search results seems at least fraught (Google's Chrome browser already hides the www): bleepingcomputer.com
Wired's Emma Pattee reported on a software trend that reminds us via our phones about our mortality. Can these reminders spur us to make better use of the time we have? wired.com
Since the inauguration, Joe Biden's $1.9 trillion dollar stimulus package seems likely to speed its way to Congress. So this article helps knock the size of a trillion into our number-challenged skulls (the story dates from around the time of the first stimulus program): thoughtco.com
Is This the Year You Take Cybersecurity Seriously?
Get Information You Can Count On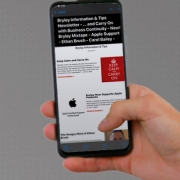 Bryley Systems' Information & Tips newsletter arrives monthly in your email box. It's a New England-based resource, in continuous publication since 2000.
Subscribe free, below. Unsubscribe any time via the link at the bottom of each newsletter.
And be assured: in more than twenty years, Bryley's subscriber list has not been shared with any third-party and will not be in the future. Bryley's Privacy Policy can be found here.
∗ indicates a required field