Bryley Information & Tips · August 2021
Responding to Cloud-Based Email Server Attacks
Just awful –the opinion on the state of a Fortune 500 company's security by the hacker who stole fifty million credentials
Lately organizations have been choosing to migrate their email networks to cloud-based email providers like Microsoft 365. These cloud-based systems are appealing with their low-cost-per-user monthly billing, ease of management and built-in security. But what are the risks these businesses can expect on a cloud-based email platform? … [5 min. read]
Scott Gold Recognized for Twenty Years of Service
Senior Network Engineer Scott Gold has been recognized for his twenty years of service at Bryley Systems. Scott has designed and built many Bryley clients' servers and and networks. Because of his experience in computer environment design Scott is a great problem-solving resource … [2 minute read]
Ethan crushed it.
Ethan crushed it. Again. Thanks.
-SP, a Bryley manufacturing client
The Strengths of an Inter-Generational Tech Team
Founded in 1987 Bryley has a diverse group of talent serving its customers – from some for whom this is their first job out of college – like Ethan Brush – to those that (as Lear's magazine used to say) weren't born yesterday.
As Bryley's grown we've sought to create a group with unique skill sets, backgrounds and schooling to meet Bryley's clients' varied needs. Bryley currently has five employees who have been with the company more than twenty years – like Scott Gold – and three who have been with the company more than ten years.
Because IT veterans have seen the evolution of technologies, because they've seen strategies come and go and because they've seen the cycles of hype, they know how to make durable networks and what's going to crash and burn. It's also important to have techs who are freshly taught in the modern methodologies. At Bryley we've built a cohesive team that brings clients both accumulated expertise and current approaches – the best of both worlds.
Tech News Mixtape
Stories at the intersection of business and technology
The remediation process for a mid-sized business takes on average 32,258 hours, which equates to $2 million in IT wages. The consequences of ransomware attacks were recently analyzed by Proofpoint … techcrunch.com
"Trying to protect all your data from everyone all the time is impractical and exhausting …" Electronic Frontier Foundation provides good sensible steps for addressing your personal security. "This guide will teach you how to make a security plan for your digital information and how to determine what solutions are best for you." The guide begins with the question: what do I have inside my home worth protecting? … eff.org
IBM created a cyberattack simulation game. You're "in the hot seat for three different roles: IT analyst, manager and executive. Each role has different responsibilities and increasingly difficult decisions to make as the cyberattack escalates. Feel the pressure, make the tough calls …" ibm.com
Criminal sites trick you into thinking they're secure – don't assume the padlock means a site is legitimate … engadget.com
Note: The Tech News Mixtape section is Bryley's curated list of external stories – stories on the internet that we found helpful. Bryley does not take credit for the content of these stories, nor does it endorse or imply an affiliation with the authors or publications in which they appear.
Is This the Year You Take Cybersecurity Seriously?
Get Information You Can Count On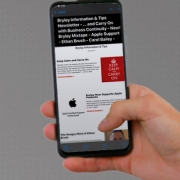 Bryley Systems' Information & Tips newsletter arrives monthly in your email box. It's a New England-based resource, in continuous publication since 2000.
Subscribe free, below. Unsubscribe any time via the link at the bottom of each newsletter.
And be assured: in more than twenty years, Bryley's subscriber list has not been shared with any third-party and will not be in the future. Bryley's Privacy Policy can be found here.
∗ indicates a required field