Bryley Information & Tips · November 2021
Thunder and Botheration!
"If there's 2FA, enable it," said Bryley's Garin Livingstone when asked for his baseline recommendation for everybody for computer security.
2FA or MFA (two- or multi-factor authentication) is adding a second (or more) proof of your identity before being granted access to a machine or software.
2FA may also rank among the biggest pains in the neck … [4 min. read]
Tempted by Windows 11?
Like it did six years ago for Windows 10, Microsoft is wooing end-users via ads for a free Windows 11 upgrade. Who doesn't want to take the latest tech out for a spin? And for free?!
But as far as business continuity is concerned (business continuity is the planning and process by which organizations maintain operation, not severely disrupted by a disaster or other unwanted incident) maybe this bargain is not yet a good deal … [5 min. read]
Tech News Mixtape
Stories at the intersection of business and technology
"The huge numbers of IoT [Internet of Things] devices that we are expecting to see in the coming years [will increase] the operational efficiency of the business … [but] all those IoT devices … also bring with them lots of security risks into those networks, and actually create a huge attack surface," said Itzik Feiglevitch of Bryley partner Check Point at the RSA Conference. Justin Sowder, also of Check Point, answered the vulnerability examples through discovery that identifies all IoT devices (IoT devices are often overlooked in network analyses), because each may require a different response to protect the network … rsaconference.com
Deloitte shows that workers with experience in legacy coding languages and systems are retiring and that schools no longer teach these to younger workers. The seasoned system developers not only understand the language, but they also have hands-on knowledge of how system functionality has evolved over the years to meet changing business needs. "It's crucial to … tap the talent and knowledge of seasoned employees. Their experience can provide continuity between legacy and modern systems …" deloitte.com
Organizations look to the Cloud for flexibility, scalability and cost-effectiveness. Criminals see the Cloud rife with badly secured enterprise data, applications and other assets, per a study by the IBM X-Force threat intelligence team. "Many businesses don't have the … expertise when configuring security controls in cloud computing environments," said Charles DeBeck of X-Force. Their research shows attackers have dramatically increased their focus on cloud targets as organizations have rushed to adopt the Cloud … darkreading.com
A fired manager of a flight school has been accused of using admin credentials to hack into the systems of her former employer; she allegedly deleted and changed records to retaliate for her firing. Sans' Lee Neely responded, "despite her credentials being disabled, [she] was able to obtain current credentials with sufficient privileges to retaliate. Use of MFA would have prevented that access …" sans.org
Note: The Tech News Mixtape section is Bryley's curated list of external stories – stories on the internet that we found helpful. Bryley does not take credit for the content of these stories, nor does it endorse or imply an affiliation with the authors or publications in which they appear.
Is This the Year You Take Cybersecurity Seriously?
Get Information You Can Count On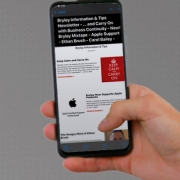 Bryley Systems' Information & Tips newsletter arrives monthly in your email box. It's a New England-based resource, in continuous publication since 2000.
Subscribe free, below. Unsubscribe any time via the link at the bottom of each newsletter.
And be assured: in more than twenty years, Bryley's subscriber list has not been shared with any third-party and will not be in the future. Bryley's Privacy Policy can be found here.
∗ indicates a required field