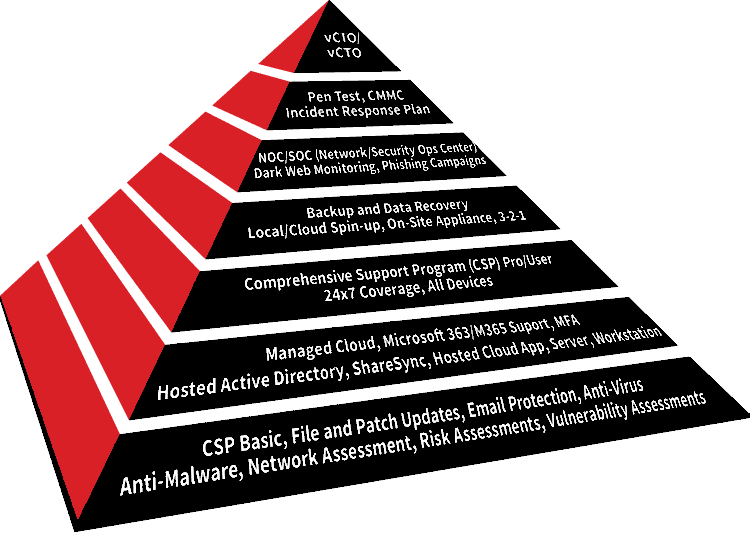 This pyramid
is a clickable menu
of Bryley's Business
Continuity
stack.
While we consider the bottom level of the pyramid a kind of baseline for everyone, your approach to your business' continuity will be specific to your circumstances.
Bryley has reliably kept organizations running more than thirty years.
Bryley is a full-service, information technology partner with a dedicated team of professionals.
Bryley's Business Continuity approach to Managed IT gives you peace-of-mind through
proactive assessments and testing to ensure continuous network function
availability of the network following an event, like an outage or disaster
access to data from any internet-enabled location
The Bryley Business Continuity stack includes: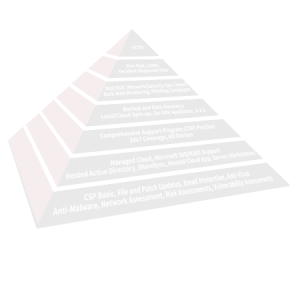 The Bryley Business Continuity Pyramid
Business continuity is the planning and process by which organizations maintain operation, not severely disrupted by a disaster or other unwanted incident.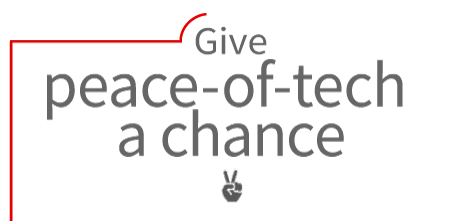 been with you for twenty years. Outstanding as always.
–owner, architectural company
You've made 

me

look good over the years!
–CFO/CTO, manufacturer
in our time of need – kept everyone calm and fixed our problem.
–administrator, real estate company
For more information about Bryley Business Continuity, please complete the form, below, call 978.562.6077 or email ITExperts@Bryley.com.
Connect with a Bryley IT expert about Business Continuity through Managed IT