Anyway Anyhow Anywhere Anytime
Microsoft 365 lets you run your organization in the Cloud …
and Bryley lets you get the most from Microsoft 365
Microsoft 365 is a complete, integrated solution to help you run and grow your business with best-in-class productivity tools.

Microsoft 365 (M365) brings together Microsoft's enterprise-level integrated system of business tools – highlights include
productivity applications: Word, Excel, PowerPoint

communication applications: Microsoft Teams, Outlook

cloud storage: OneDrive, SharePoint

at a low, predictable monthly investment.
M365 also allows you to have apps designed just for your business for engaging customers or streamlining processes1 through its API (Application Programming Interface).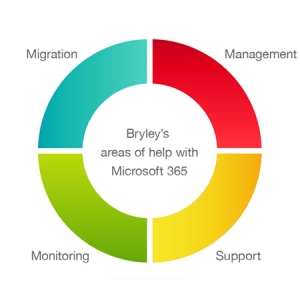 Bryley M365 Management
Need to add, remove or change users, groups or licenses? Bryley can help by managing M365 for your organization. For example, if an employee is no longer working for you, Bryley can remove the user's M365 licensing, therefore revoking access to the account.
Bryley M365 Support
Bryley M365 Support includes email and telephone support for your administrators Monday through Friday, 8:30 AM to 5 PM Eastern Time2. Bryley Support also includes M365 console training for your administrators and troubleshooting.
Bryley M365 Monitoring
As is the temptation with a cloud service, you may falsely get a sense of security just by deploying M365. But like any server, M365 has shown it is vulnerable to attacks3. Bryley's monitoring warns of suspicious activity on the platform. For example alerts are triggered if an employee creates an inbox rule to forward to an external address (which could violate your organization's security) or if an employee tries to use an insecure password.
Also Bryley can provide monitoring and reporting on how your employees actually use M365. This allows you to maximize value and productivity on the platform.
Bryley M365 Migration
Making the switch to Microsoft 365 is easy with Bryley's migration services that include
set-up the M365 environment

configure end-user computers

migrate current email accounts and files

train your employees
Overview of Microsoft 365 Versions >
Backup for Microsoft 365 >
Guidance You Can Count On
Bryley can provide expert advice on selecting the Microsoft business plan suitable for your situation. As a Silver Microsoft Partner, Bryley has trained, answered troubleshooting situations and otherwise supported many organizations with Microsoft products since 1987.
For more information about how M365 with Bryley migration, management, support and monitoring can help your business be more productive, keep its technology current, support a hybrid workforce and secure its data from threats, please complete the form, below, call 978.562.6077 or email ITExperts@Bryley.com.
1 https://www.verizon.com/business/resources/reports/dbir/ Office, Outlook and Microsoft Teams have growing libraries of integrated apps, for customer relationship management, project management, collaborative whiteboarding, shared knowledge and much more.
2 Except Bryley's observed holidays
3 https://www.techtarget.com/searchsecurity/news/252495885/SolarWinds-Office-365-environment-compromised
Microsoft 365 and Bryley Microsoft 365 Support are part of the Bryley Business Continuity Pyramid
Business continuity is the planning and process by which organizations maintain operation, not severely disrupted by a disaster or other unwanted incident.
---
Microsoft 365 At-A-Glance
enterprise-grade email
document storage
a hub for teamwork
familiar Microsoft Office applications
automated patching and updating
data protection
Connect with a Bryley IT expert about Microsoft 365