Bryley Information & Tips · September 2021
Bryley Systems Named to 2021 Channel Futures MSP 501
The MSP 501 designation is an IT industry signifier that recognizes best-in-class operational efficiency and business models. The MSP 501 award is a sixty point, independent audit verifying that Bryley is a fit and stable operation from which to provide its clients dependable business continuity … [2 min. read]
Why Don't Businesses Do Network Assessments?
Too often network assessments land hard at the bottom of a to-do list as each day's urgencies move unrelenting to the top of our attentions.
Or a network assessment – accounting for and understanding the access and role(s) of every asset on the network – seems like a painful and slow job. And what is the return for all the effort? … [5 minute read]
This One's for You
What would you like to see in future Bryley Info and Tips newsletters? Tips for your IT department? Getting to know Bryley's people and insights into Bryley's work? Advice on being more secure? Please let us know, so we can deliver more of the articles you find helpful, by emailing: Lawrence Strauss, lstrauss2@Bryley.com
Tech News Mixtape
Stories at the intersection of business and technology
A well-organized ransomware syndicate's playbook, including training for new recruits, has apparently been leaked. "The playbook gives an insight into the operations … from searching for company revenue to methods of exfiltrating data. It shows [them] operating on a standard set of procedures [with] solid documentation and knowledge of how to wage widespread ransomware campaigns," said Bryley partner Cisco's Nick Biasini … darkreading.com
"Emails are still the most efficient method to deliver and propagate ransomware … web browsing is the second most common entry vector," according to new research from Palo Alto Networks. Their data show ransomware is delivered via email over seventy percent of the time … paloaltonetworks.com
Bryley partner Microsoft is among eighteen cybersecurity companies selected to work with the National Institute of Standards and Technology (NIST) to develop Zero Trust designs for federal agencies. Zero Trust is a way of operating that assumes an organization has already been hacked. It acknowledges data needs to be protected both within and without the network and across managed and unmanaged devices …  zdnet.com
Don't forget usernames! A lot of attention is rightly put on securing passwords, but usernames are another and vulnerable security factor to consider. "The exposure of a person's username … can trigger a cascade of security failures." It's another reason to use a password manager, as it can store unique usernames, too …  tomsguide.com
Want to gain trust in your organization in a time of hybrid work and more sensitive data in the Cloud? Consultancy Deloitte recommends taking a good look into your cybersecurity basics. Such foundational things include "patching systems to address vulnerabilities that could lead to ransomware attacks, enabling multifactor authentication, leveraging virtual private networks, and training people to be watchful for possible phishing emails" …  deloitte.wsj.com
Note: The Tech News Mixtape section is Bryley's curated list of external stories – stories on the internet that we found helpful. Bryley does not take credit for the content of these stories, nor does it endorse or imply an affiliation with the authors or publications in which they appear.
Is This the Year You Take Cybersecurity Seriously?
Get Information You Can Count On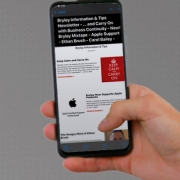 Bryley Systems' Information & Tips newsletter arrives monthly in your email box. It's a New England-based resource, in continuous publication since 2000.
Subscribe free, below. Unsubscribe any time via the link at the bottom of each newsletter.
And be assured: in more than twenty years, Bryley's subscriber list has not been shared with any third-party and will not be in the future. Bryley's Privacy Policy can be found here.
∗ indicates a required field