Bryley Information & Tips · July 2021
Risk Assessment Helps Identify the Security Holes in Hybrid
"To survive and thrive … organizations must improve resilience, anticipate and prepare for disruption if they hope to remain relevant and continue to serve their customers," said Alla Valente of Forrester. "Risk assessment is essential to help companies [see] existing and emerging risks that threaten their … data, systems, processes, people, operations, and intellectual property."
The vaccine rollout has led to an increase in hybrid work environments that have elements of both on-site work and the remote work model. Remote work has been shown in a Microsoft study to lead to cyberattacks and data loss because many endpoints operate outside the secure corporate perimeter.
Risk assessment can help you address, reduce or avoid security problems inherent in your organization's current work model … [5 min. read]
Why Don't Businesses Use MFA?
The Cybersecurity and Infrastructure Security Agency recommends that small- to medium-sized organizations implement MFA (multi-factor authentication). Multi-factor authentication refers to when you use two or more of the following factors … [6 min. read]
Update on Attack Against Kaseya VSA
Kaseya VSA, a remote monitoring and management tool, was the victim of a cyberattack. Bryley uses Kaseya VSA. However Bryley was among a group of VSA users who were able to be warned by Kaseya of the unfolding attack. Because of the warning Bryley immediately shut down Bryley's instance of the VSA server.
During this time Bryley continued to monitor and manage its clients by alternate methods. The VSA server was patched by Kaseya engineers. After the patching was vetted by Bryley engineers, Bryley spun up its instances of the VSA server. Neither Bryley nor its customers were affected by the attack.
Imagine using an MSP that isn't Bryley …
Tech Service Team Member Ethan Brush's good work won these comments from a Bryley client … [6 min. read]
Tech News Mixtape
Stories at the intersection of business and technology
President Biden's new approach in the cyberwar: cryptocurrency bounty. The new measures revealed include rewards of up to $10 million in crypto for information leading to the identification of foreign actors that engage in malicious cyber activity against US infrastructure … cpomagazine.com
Amnesty International's report on incidences of spying via iPhones said spyware maker NSO's software doesn't stay on an iPhone when it's rebooted. Users who are worried about being spied on may want to regularly reboot their devices … cnbc.com
Ed Bott of zdnet has provided guidance to instituting MFA (multi-factor authentication) that includes prioritizing the accounts that are best to protect first … zdnet.com
And in that vein, the Finance Buff describes available options for shoring up investment accounts … thefinancebuff.com
Note: The Tech News Mixtape section is Bryley's curated list of external stories – stories on the internet that we found helpful. Bryley does not take credit for the content of these stories, nor does it endorse or imply an affiliation with the authors or publications in which they appear.
Is This the Year You Take Cybersecurity Seriously?
Get Information You Can Count On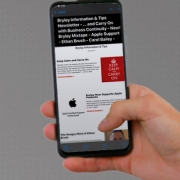 Bryley Systems' Information & Tips newsletter arrives monthly in your email box. It's a New England-based resource, in continuous publication since 2000.
Subscribe free, below. Unsubscribe any time via the link at the bottom of each newsletter.
And be assured: in more than twenty years, Bryley's subscriber list has not been shared with any third-party and will not be in the future. Bryley's Privacy Policy can be found here.
∗ indicates a required field