Bryley Information & Tips · June 2021
No Recess
"Just knowing my company was using a phishing simulator stopped me from opening emails I had doubts about," said an employee of a business using Bryley Email Phishing Simulator. Bryley Email Phishing Simulator tests employees by staggering the delivery of phishing-like emails, to help users develop vigilant behavior. "Why risk it?" the employee added, "I don't want to end up an example at the next meeting." Cybercrime doesn't rest. It changes and evolves … [5 min. read]
Nine Ways Employees' Credentials Can Lead to a Breach
A one-page chart that shows areas employers sometimes overlook when it comes to considering the source of compromised credentials [2 min. read]
Keeping a Weather Eye on the Dark Web
Sixty-one percent of IT security personnel reported their hybrid workforce was the cause of a data breach, per darkreading.com. So vigilance of criminal transactions of leaked credentials on the Dark Web is one of the tools a business needs to shore up its defenses … [5 min. read]
Tech News Mixtape
Stories at the intersection of business and technology
COVID-19 phishes may have shifted tactics in fifteen months, but they persist. Check out this recent example cornell.edu
Hackers think they may be able to make more money than they do deploying a typical ransomware attack by instead auctioning stolen intellectual property on the Dark Web. Both Electronic Arts and Capcom recently reported compromises of their software assets. And once they're in, in-software sales can be another way criminals monetize a theft … wsj.com (paywall)
Really talented criminals that have come up with smart, criminal solutions, rent access to these solutions to lower-level criminals for a cut. This might be a one-off payment or a percentage of the profits. Threat Analyst Kelvin Murray of Bryley partner Webroot discussed how Cybercrime-As-A-Service is now proliferating in the hands of everyday troublemakers … channele2e.com
Everybody loves the Cloud! What is the Cloud anyway? Here's an analysis of the bargain we make in moving our processes and data to AWS, G-Suite, Microsoft 365, etc. … cio.com (free registration required)
Note: The Tech News Mixtape section is Bryley's curated list of external stories – stories on the internet that we found helpful. Bryley does not take credit for the content of these stories, nor does it endorse or imply an affiliation with the authors or publications in which they appear.
Is This the Year You Take Cybersecurity Seriously?
Get Information You Can Count On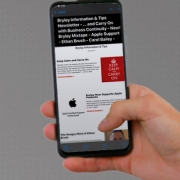 Bryley Systems' Information & Tips newsletter arrives monthly in your email box. It's a New England-based resource, in continuous publication since 2000.
Subscribe free, below. Unsubscribe any time via the link at the bottom of each newsletter.
And be assured: in more than twenty years, Bryley's subscriber list has not been shared with any third-party and will not be in the future. Bryley's Privacy Policy can be found here.
∗ indicates a required field