Bryley Information & Tips · December 2020
What Does the SolarWinds Breach Mean?
People are afraid of breaking things. They don't want to be the one who goes and implements a firewall rule to lock down their server and now, accidentally, something else broke. So they end up leaving it like it is. They've got other, pressing things to do. —David Byler, Omega Security Partners
For some perspective on the massive hack here's a conversation with David Byler, a Bryley trusted security advisor [7 min. read]
Ideal Email White Paper
Bryley's solution that encompasses email continuity, encryption, archiving and back-up. Download the White Paper [9 min. read]
Holiday Sweaters Day
Last Thursday was Bryley's Holiday Sweater Day … check it out! [1 min. read]
Do or do not. There is no try.
I found myself at 30 unsatisfied with the professional roles I'd had, said Frank Walek. I saw that every job had just kind of presented itself to me. And if I was going to do things better going forward, I'd have to start by asking, "what work would I actually want to do?"

Is This the Year You Take Cybersecurity Seriously?
Get Information You Can Count On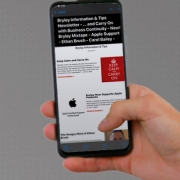 Bryley Systems' Information & Tips newsletter arrives monthly in your email box. It's a New England-based resource, in continuous publication since 2000.
Subscribe free, below. Unsubscribe any time via the link at the bottom of each newsletter.
And be assured: in more than twenty years, Bryley's subscriber list has not been shared with any third-party and will not be in the future. Bryley's Privacy Policy can be found here.
∗ indicates a required field