Bryley Information & Tips · March 2021
BCDR: Get Back
Business Continuity and Data Recovery (BCDR) is a set of processes and products that enable an organization to recover from a cyber-incident and continue routine business functions … [9 min. read]
ARA Mass Trains Its Member Organizations
The American Rental Association of Massachusetts (ARA) set their member organizations on the path to cybersecurity awareness this month. ARA received six hour-and-fifteen-minute-long custom seminars that introduced the concepts of Security Awareness Training – tailored to their industry.
Bryley VP Roy Pacitto facilitated the online, interactive sessions that provided an introduction to Security Awareness Training (SAT) for ARA member organizations. The aim was to provide each participant with the basics that if the concepts presented were adhered-to the organizations would be less likely to experience a security breach. It was explained at the outset that one-time training sessions have only limited benefit. But couple initial training with ongoing Security Awareness Training and the results are historically impressive in minimizing cybersecurity risks … [6 min. read]
Anna Darlagiannis Named to Top 25 Women Leaders in IT Managed Services
Vice President of Client Services Anna Darlagiannis was named to IT Services Report's Top 25 Women Leaders in IT Managed Services 2021. Anna describes her role as making life easier for clients: "Bryley grew organically and added departments as they were needed. This meant clients would get 'call this extension for billing,' 'this extension for proposals,' 'this extension for tech support' … Now we've created a Client Services umbrella, so things are simpler for people to call or email to get the help they need."
Anna was recognized for her current role and for having been a successful member of the Bryley team for over a decade. [5 min. read]
Portuguese Is Spoken at Bryley
Bryley Systems has employees fluent in Portuguese to help clients of Brazilian origin. Como podemos te ajudar? 978.562.6077 and select option 2
Tech News Mixtape
Following are some of this month's important stories at the intersection of business and technology. We hope you'll find these items as helpful as we have.
How to Get Hacked and Become a Victim of Identity Theft is a wry look — from a lawyer's perspective — at worst practices. What could be the harm in playing an online game that asks who was your best friend in high school and the name of your first pet? kiplinger.com
Streaming services are a simple gateway to your info via widely available OpenBullet, an open source testing app. So shore up those passwords money.com
Not news, in fact unchanged since about 2011, but a great lesson in what goes into a tough-to-crack password. It contains an explanation of these words of wisdom: once an exhaustive password[-cracking attempt] begins, the most important factor is password length grc.com
How familiar are you with the safety features of your smartphone? Here's a good, quick overview of both iPhones' and Androids' safety and security functions. Like for example: if you never check-in to places on social media, why let social media apps track your location? safety.com
Note: The Tech News Mixtape section is Bryley's curated list of external stories. Bryley does not take credit for the content of these stories, nor does it endorse or imply an affiliation with the authors or publications in which they appear.
Is This the Year You Take Cybersecurity Seriously?
Get Information You Can Count On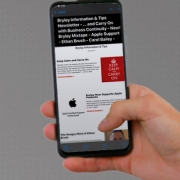 Bryley Systems' Information & Tips newsletter arrives monthly in your email box. It's a New England-based resource, in continuous publication since 2000.
Subscribe free, below. Unsubscribe any time via the link at the bottom of each newsletter.
And be assured: in more than twenty years, Bryley's subscriber list has not been shared with any third-party and will not be in the future. Bryley's Privacy Policy can be found here.
∗ indicates a required field