Bryley Information & Tips · February 2021
Thinking In-House IT? Consider Bryley IT
Small- to medium-sized businesses don't usually have an on-site tech overseeing the systems in use – these tasks tend to fall to the owners or employees with the most tech aptitude/interest. But if you've had it with frustrating downtime scenarios, you may be thinking of hiring an IT tech or contracting with a Managed Service Provider (MSP) like Bryley … [5 min. read]
Cyber Liability Insurance
Bryley is sometimes asked by its clients about the need for liability insurance for data compromise and other risks associated with our digital lives. For these kinds of questions Bryley turns to Murphy Insurance … [2 min. read]
On Balance
"I'm just as passionate about helping people as I am about technical work," said Lucas Belo. "And those two blend very well as a Field Tech …"
Survey Response: "Thank You to Ethan"
"Thank you to Ethan: you explained the steps you were taking to efficiently identify and resolve the issue. This was greatly appreciated!" [1 min. read]
Tech News Mixtape
Following are some of this month's important stories at the intersection of business and technology. We hope you'll find these items as helpful as we have.
Are people afraid to mention anomalies on their systems for fear of being pilloried? Could the SolarWinds event have been much less damaging? "Cyber-shaming is as much a danger to our collective cybersecurity defenses as any other risk. We have to [start] encouraging individuals … to come forward with anything concerning they may … encounter" comptia.org
Consumer PCs are nearly twice as likely to get infected as business PCs, underscoring the risk companies face in allowing employees to connect to business networks from their personal devices. And running eleven or more Security Awareness Training campaigns in about six months reduced employees' phishing click-rate by about 65%. Check out the latest Webroot Threat Report: webroot.com
About those Texas outages: "all our power lines and broadband lines … are exposed and hanging [from telephone poles]. This is unconscionable. The power services know that we're prone to [storms], yet they allow these lines to remain open and exposed. Can you imagine such irresponsibility among cloud computing providers … knowing what they do about the prevalence of hackers and infiltrators? [What if they] just didn't bother using firewalls, intrusion prevention, or password security? No one would tolerate such a thing. But that's because [cloud providers have] competition, which keeps it agile and competitive. We're stuck with our single power provider." zdnet.com
Note: The Tech News Mixtape section is Bryley's curated list of external stories. Bryley does not take credit for the content of these stories, nor does it endorse or imply an affiliation with the authors or publications in which they appear.
Is This the Year You Take Cybersecurity Seriously?
Get Information You Can Count On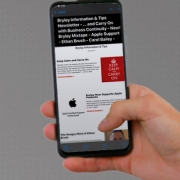 Bryley Systems' Information & Tips newsletter arrives monthly in your email box. It's a New England-based resource, in continuous publication since 2000.
Subscribe free, below. Unsubscribe any time via the link at the bottom of each newsletter.
And be assured: in more than twenty years, Bryley's subscriber list has not been shared with any third-party and will not be in the future. Bryley's Privacy Policy can be found here.
∗ indicates a required field