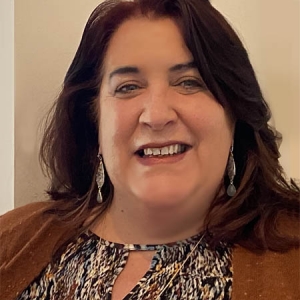 Carol Bailey is Bryley Systems' new Managed Services Administrator — monitoring premier clients' systems. But just a little while ago Carol worked for a Bryley client in the field of construction management. And during that time she was working on a degree in IT.
Carol grew up in Arlington, Mass, where her father was an electronics engineer in SONAR and RADAR for NASA and NOAA while working for EG&G (Harold Edgerton's bullet-through-the-apple, high-speed photography firm). Carol's father used to work on his own electronics projects in the family's home's basement. "When I was a young girl I would always be down in the basement when he was working on things. I'd be holding a lamp for him and watching. I think I inherited his sense of curiosity that still fuels me," said Carol.
For sixteen years Carol worked in various capacities for MIT. She began in the Facilities Emergency Response Team — handling floods, fires, chemical spills, gas leaks. In 2015 Carol was awarded the prestigious Excellence Award by MIT. The award recognized a multitude of accomplishments (Carol boils her various successes at MIT down to: "with the continuous training MIT provided and my own nature I developed a capacity to be the one to keep cool in high-pressure situations.") With the award came five pages of testimonials from colleagues, faculty and department supervisors; the ideas that recur most in those documents describe Carol as capable, dedicated, helpful, genuine and positive.
When her father became terminally ill Carol moved to Central Massachusetts to help care for him. At that time Carol completed a computer networking degree and worked as an office administrator at the construction management company where "Bryley was the managed IT provider. I was always really impressed with the way the Bryley people worked as a team and the way they treated their clients — professional and on the ball," said Carol. And when she finished her degree she applied for her position at Bryley.
"Shortly after I started in May," said Carol, "a client who makes machinery had to have about ninety remote computers set up in a few weeks. From a tech point-of-view my colleague Frank and I baselined as many computers as we could each day to get these done in time. But this also meant coordinating time with each individual user to remote into their computers and complete each set-up.
"I've been working years and years with systems, databases and programs. And I'm in a year-long track for more advanced CompTIA certification. But a lot of times my role is to reduce stress, keep clients calm and confident that the Bryley team will get things resolved. Helping people have some peace of mind is very gratifying," said Carol.
Lawrence writes about networking and security. He's written for Bryley since 2015.