Bryley's President, Gavin Livingstone, who currently chairs the Worcester Regional Chamber of Commerce (WRCC) Ambassadors, arranged for a group of 20 WRCC Ambassadors and staff to tour the new Worcester Regional Transit Authority (WRTA) maintenance facility at 42 Quinsigamond Avenue, Worcester. The tour was conducted by Jim Parker, General Manager of Central Mass Transit Management Inc. (CMTM), which operates and maintains all of the WRTA buses and facilities.
Touring Maintenance Facility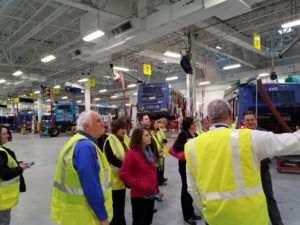 Created in 1974, the WRTA is the second-largest regional transit authority in Massachusetts, servicing Worcester and its surrounding 37 communities. WRTA buses typically run continuously from early morning through midnight (with some holiday exceptions); seven days a week, 365 days a year.
The WRTA's new, 156,000-square-foot facility is roughly double the size of the original, outdated garage, which was built in 1928 as a trolley barn. The new facility is large enough for 75 transit buses and 30 vans (the current fleet includes 52 buses), and has nine maintenance bays. Buses enter the facility and head to a refueling bay where they can get a wash, repairs, fluid checks and adjustments – even get repainted – before rolling back into service.
Window View from the Upstairs Office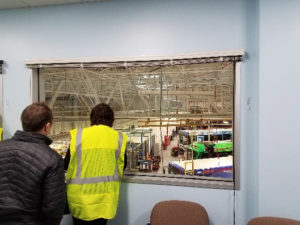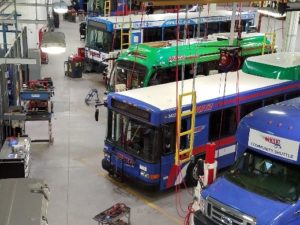 The new facility is also home to significant, up-to-date technology, including a WRTA BusTracker app, Track by Text, Track by QR Code, and WRTA-schedule/ tracking Kiosks located throughout the city.
Control Center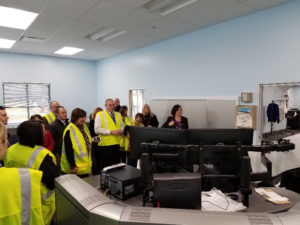 All operations run through the sophisticated Control Center, which is continuously manned when buses are on the road.
In 2014, Bryley Systems – the Managed IT provider for CMTM and the WRTA – designed and deployed an IT-infrastructure platform to support the technologies listed above, but with managed redundancies to allow continuous operation. (For details, visit Transportation Company Relies on Bryley Systems to Stabilize Technology Platform and Create Blueprint for the Future for details.)
https://www.bryley.com/wp-content/uploads/logo-340-300x79.png
0
0
Gavin Livingstone
https://www.bryley.com/wp-content/uploads/logo-340-300x79.png
Gavin Livingstone
2017-02-23 06:30:00
2017-03-22 15:39:55
Tour of the new maintenance facility of the WRTA