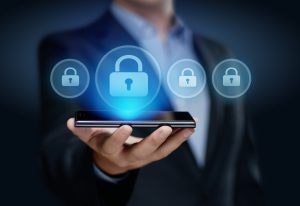 We all love receiving new technology during the holiday season, but we must remember to protect it.  Whether we like it or not, cell phones and laptops are no longer simply devices – they are an extension of ourselves.  They house important information and records that we wouldn't dare give a stranger (social security numbers, passwords, confidential information). In fact, we use them for socializing, shopping, banking, browsing, and much more.  Simply for the ease of use, it becomes a habit to stay logged into your accounts on your devices, but the downside is that if your phone is lost or stolen, it can lead to identify theft.  Someone could also hack your phone and access information via web-pages you have visited.  The importance of smartphone security is something we should all be aware of and implement right away.
Nearly 40% of data breaches are caused by mobile devices.
Employee negligence is typically due to employees who are busy, traveling constantly, or hurrying through a task, and simply not knowing or paying attention to the risks involved.
Theft is a big problem since there are ways to breach a smartphone.
Malicious attacks. Hackers are responsible for the majority of breaches and thrive on those who leave the doors wide open to an attack.  Don't leave yourself vulnerable.
Here are some tips to enjoy that new device as well as protect your privacy and information:
Activate Screen Lock. Perhaps the easiest and first line of defense on any device is the lock screen. After any time of inactivity (usually 30 seconds for cell phones and slightly longer for laptops and desktops), the device should be enabled to auto-lock so no one else can access your information.  On a cell phone, the code is usually four characters, but can be longer.  No matter how protective you may be of your devices, there's no guarantee that you may not accidentally leave it somewhere.

Encryption can do a lot to protect your phone's data and the good news is that all iPhones and newer Android versions come with their phone automatically encrypt once you set a password.
Mind your Apps. We all like the simplicity and efficiency that apps provide, but it's important to keep an eye on them. There has been an increase in malware attacks, especially on smartphones, since most users gain access to confidential information.  Always read the small print and consider the personal information the app requires. If an app requires significant personal information, reconsider installing it.

Always use official app stores. App stores generally approve and vet apps prior to granting them space on the platform. (Always make sure the Web site URL starts with a secure https:// and contains a locked padlock icon.)
Check permission for the app. Some apps will ask permission to access certain aspects of the device. While it will make sense for a GPS to ask for your location, the same cannot be said for a flashlight app asking permission to access your text messages.

Browse Carefully. When you access a web browser on your smartphone, you should be very careful because it is easy to accept messages that pop up. For instance, you might decide to save your password and other information as it leads to easier access later on.  Unfortunately, that can provide others a way to copy your data. Always use reliable and safe websites and never enter your information on new or unknown websites, especially when they are asking for sensitive information like your credit card or bank details.
Remote Wipe. Have security knowing that if your phone is lost or stolen, you can safely wipe the device to protect the data from falling into the wrong hands.  A similar feature can be enabled after a certain number of failed passwords to access the phone (usually it is around 10 attempts before the device is wiped).  This service provided to our clients enrolled under the CSP agreement.
Use caution with any links you receive via email or text message. Exercise caution when clicking on links. Phishing scams are not limited to email – a text message can incite you to click on a malicious link or ask for personal information.
Do not alter security settings for convenience. Tampering with your phone's factory settings, jailbreaking, or rooting your phone undermines the built-in security features offered by your wireless service and smartphone, while making it more susceptible to an attack.
All Wi-Fi was not created equal. Be mindful when using open Wi-Fi. When you are not using your wireless connection, you should keep it switched off. This can ensure that no one else can connect to your device without your permission or knowledge. You should also check your device's network settings as they might be configured to connect to a network automatically when in range and may not ask for permission. In addition, your home wireless router should also be protected through a password or security code.
Run the Updates. Don't put off downloading updates. Many updates tweak and fix several flaws on your phone that could open a backdoor for hackers.
Wipe data on your old phone before you donate, resell, or recycle it. Your smartphone contains personal data you want to keep private when you dispose your old phone. To protect your privacy, completely erase data off of your phone and reset the phone to its initial factory settings.
https://heimdalsecurity.com/blog/smartphone-security-guide-keep-your-phone-data-safe/#
http://www.nsiserv.com/blog/mobile-security-threats
http://www.smallbiztechnology.com/
https://www.networkworld.com/category/malware-cybercrime/
https://www.fcc.gov/smartphone-security
http://pcworld.com
https://www.bryley.com/wp-content/uploads/logo-340-300x79.png
0
0
3mediaweb
https://www.bryley.com/wp-content/uploads/logo-340-300x79.png
3mediaweb
2018-01-02 06:55:14
2020-11-18 18:42:40
Smartphone Security