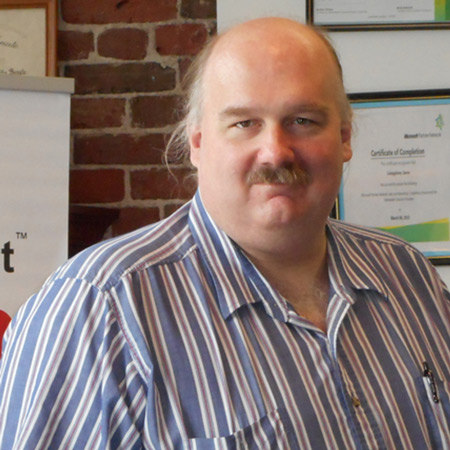 By Tom Barnes
It is with great sadness that we announce the passing of Mike Carlson, Bryley Systems' Chief Technology Officer.
Mike joined Bryley Systems in 1997 and, due to his brilliance, dedication, extensive knowledge in both local and wide-area network design and implementation, and love for technology became the Bryley CTO in 2007.
As an example of his incredible skillset, Mike designed, deployed, and helped maintain the VMware-based infrastructure at the WRTA (Worcester Regional Transit Authority), which to this day supports the technology of over 20 separate vendors on an integrated platform with high availability.
Mike also served as the virtual Chief Technology Officer (vCTO) – virtual in that the role is outsourced by the client to Bryley – for a number of our clients, acting as a trusted adviser on technology issues and design solutions to ensure that IT investments support strategic business direction.
One example of Mike serving in this vCTO capacity was for a manufacturing client. "Mike advises us just as though he's our internal CTO," the manufacturer's president said. "He presents the options and the costs to make sure we have the right technology balance in order to keep providing a high level of service to our customers."
In addition to his accomplishments at Bryley Systems, Mike held numerous IT awards and certifications, only some of which included being a Microsoft Certified Technical Specialist™ (MCTS), a Microsoft Certified Systems Engineer™ (MCSE), a VMware Technical Solutions Professional (VTSP), and a Citrix Certified Administrator (CCA).
Around the office, Mike was well-liked by all and will be deeply missed. Though quiet in nature, he was always willing to provide his wisdom, guidance, and support on any project that needed his distinct touch.
For those who wish to show support to his family, there will be calling hours Friday, October 13, from 9 to 10:15 a.m. at the Athy Memorial Home, 111 Lancaster St., Worcester. The funeral Mass will follow at 11 a.m. at Our Lady of Good Counsel Church, 111 Worcester St., West Boylston. Burial will be private. For more information and ways to show support, you can read Mike's full obituary at the Telegram & Gazette, leave a memory and kind words on his Memory Board or a donation in memory of Michael Carlson to the Joslin Diabetes Foundation.