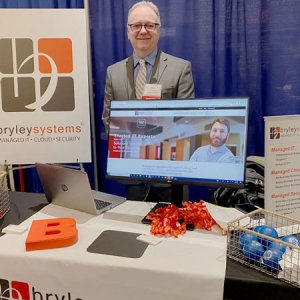 How good was it to be back, participating in a bit of normal April 6? That was the day of the Corridor 9/495 Chamber's Open for Business Expo at the Doubletree Conference Center in Westboro, Mass.
Bryley was pleased to take part: tasting the local fare is always a treat, of course, but also we got to catch up with some old friends, as well as make new acquaintances that we hope will blossom into friendships.
Maybe the attendance numbers weren't quite like pre-pandemic days, but there seemed an air of excitement almost like being let out of school for the summer – and this to be at a business expo! Whodathunk?
Lawrence writes about networking and security. He's written for Bryley since 2015.