Bryley Systems has for the ninth time been ranked among the top in its industry in a worldwide evaluation
MSP 501 is an IT industry signifier that recognizes the MSP (managed service provider1) industry's highest operational efficiency and business models. The MSP 501 award is based on a sixty-point audit to verify the fitness and stability from which independent IT providers can serve their clients with dependable IT.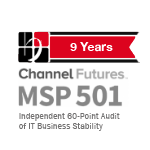 So why should it matter to you?
With its detailed questionnaire (over sixty areas of scrutiny) and the requirement to have financial results certified to the auditors, the MSP 501 award helps benchmark which MSPs are fit to earn their clients' trust. Measures of growth and financial stability equate to knowing that the IT provider isn't going to go away and leave you high and dry. It also means for the winning IT providers a lower cost of doing business (money becomes cheaper with business fitness) resulting in a better ability to provide clients with the latest and best software and hardware for networking and cybersecurity.
So if you are in Bryley's New England service area, this nine-time achievement is a reason to consider Bryley for your short-list of IT service providers.
1 An MSP delivers services, such as network, application, infrastructure and security, via ongoing and regular support and active administration on customers' premises, in their MSP's data center (hosting), or in a third-party data center, per https://www.gartner.com/en/information-technology/glossary/msp-management-service-provider
Lawrence writes about networking and security. He's written for Bryley since 2015.