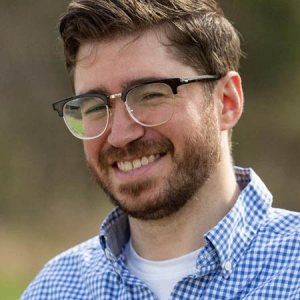 Tom Barnes was recently named Manager of Client Services. Tom joined Bryley Systems in 2020 as a Business Development Representative. Within a year he transitioned to a role as a Client Success Specialist where his success advocating for Bryley clients earned him favorable notice and his current role.
Tom has had a diverse career that has included software troubleshooting, RV sales and running his own business. He achieved a BS (Summa Cum Laude) in Psychology from UMass Amherst.
Vice President of Client Services Anna Darlagiannis-Livingstone said of Tom: "Tom's successes before Bryley, led to us hiring him almost three years ago. And since he's been here, his work making things better for our clients and contributing to the efficient running of the company are some of the reasons Tom is now managing Bryley Client Services. Also, Tom's a good guy that clients feel comfortable working with."
Following are Tom's thoughts about his new role excerpted from a recent conversation:
My dad was a network engineer and ran the networking for a school system. When I was young I used to carry servers and CRTs for him and do things like that.
At Bryley I think the big thing I bring to the table is my organizational skills. I'm really good at being organized and I'm good at following-up which helps others internally and externally also be organized. I'm good at keeping to my calendar and staying on top of emails. These little things save time.
A specific time-saving example concerned our Tier 1 Checklist – that we look at periodically with clients. I made the lengthy checklist into a more digestible PowerPoint form that condensed items, but kept it just as content-rich. The PowerPoint's been adopted by Bryley, so we now go through the process more efficiently. I'm always looking around for things that could work better and following-through so things improve. I believe being efficient like this gives us more time to help Bryley's hundred-plus clients where each client environment is different.
Client Services is a mix of roles that includes getting internal technical memos – these can be about updates for existing products or about newer technologies Bryley's engineers are recommending. And the Client Services team will review these and clients' configurations to help them along a path so their networks continue to perform well and be secure. Also, the Client Services department makes sure clients' licensing [e.g. for cloud services] stays current and active.
I can take clients so far, and work closely with Anna Darlagiannis-Livingstone [Vice President of Client Services], because given her depth of expertise, she understands the finer details and the nuances. It is a team approach – the goal of the team is that customers feel taken care of and are happy.