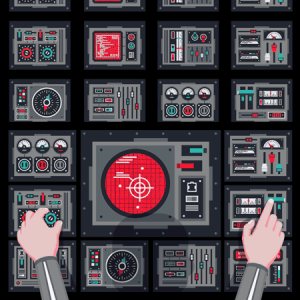 Successful Backups Need Planning, Training and Monitoring
Working data-sets are not fixed. They change and grow and shrink and experience events (like component failures and breaches). So you need to have plans, policies and trained people in place to ensure your backup is ready to restore your organization at any time.
Have a Disaster Recovery Plan?
Often Bryley encounters backups that are running well: critical data is being backed up at regular intervals supporting an organization's recovery-time and recovery-point objectives. That's great. Then disaster strikes, like the network room floods. And without proper preparation, without a plan in place, chaos can happen and frustrations can grow.
A backup is successful only if the data can be efficiently and adeptly recovered. And realizing that kind of recovery is not just dependent on technology, but on people having clear instructions about what to do in a disaster. This is why you need to have a documented recovery procedure – typically in the form of a Disaster Recovery Plan. The plan should include important procedural steps involved in recovering lost data and should also indicate who is responsible for performing those steps once a disaster is declared. If you decide to not have a documented Disaster Recovery Plan then getting back up-and-running post-disaster may be difficult and stressful.
Backups Being Monitored?
Many organizations take a set-it-and-forget-it approach to their data backups. No one checks if the backup systems are behaving as expected (trend analysis) and are successful (event detection).
Monitoring will reveal long-term trends. How does the performance of your backup hardware/software change over time? Trend analysis is also helpful for backup capacity planning, showing organizations when to add resources to keep from running out of room.
Also if there are any errors (and there will be from time to time) that cause a backup job to fail – you need to be made aware, so it can be addressed and there aren't gaps in your data set.
Monitoring helps you see long-term trends and alerts you to potential problems. Someone must keep a close eye on your backups – otherwise you will find yourself in a bad situation one day.
Backup Systems Tested? People Ready?
Data backup systems absolutely, positively need to be tested. TechTarget's John Edwards recommends regular restores of systems, applications and individual files with checks to ensure that the data is valid and accessible as intended … not all data is created equal – a fact that should affect the frequency of backup tests. Some types of data is more important than others. Government- or industry-imposed compliance data, for instance, might be considered more important than marketing data. Advance planning should be used to determine which types of data backups should be subject to more frequent tests.1
Such an approach will also provide your organization with a realistic time frame for recovery in the event a storage system failure or disaster strikes. A true test is the only way to verify that critical information can be restored if needed.
More importantly the people specified in your Disaster Recovery Plan should be educated on the restore process, especially those that play a role in restoring lost or corrupted data. An effective way to provide this training is by conducting periodic tabletop exercises. A common tabletop schedule is to hold monthly fifteen-minute discussions in which disaster recovery scenarios are presented to the recovery team and they have an opportunity to respond. This is useful training without service disruptions.
How Do You Add or Remove Items from Your Backup?
As new servers, applications and data storage are added to your computing environment – they also need to be added to your backups. A documented Data Backup Policy outlines the process for adding or deleting components of the backups. Without a policy, new systems may or may not be integrated into the backups effectively and old systems may never get removed. Once you have a working data backup, you want it to stay current. This requires governance and oversight provided by good policies and procedures.
Get Help Before [A Disaster's Name Here]
Hopefully the above has been a review for you – you already have these things in place in your backup scheme:
A Disaster Recovery Plan
Monitoring your backups so you see and can correct for any errors
Testing your backup sets so you can witness how a restoration will actually go
Employees are trained to handle disasters
A Data Backup Policy to guide your employees about adding or deleting backed-up documents, etc.
But if you feel you may need to refocus on the state of your backup – which is the key element to achieving real business continuity – Bryley may be able to help you. Since 1987 Bryley has counselled on strategic data backup and restoration planning and implementations with components that work harmoniously – providing safe on-site and off-site backups and smart and effective restoration. For more information about backing up, please call 978.562.6077 or email ITExperts@Bryley.com.
1 https://www.techtarget.com/searchdatabackup/tip/Ten-important-steps-for-testing-backups
Lawrence writes about networking and security. He's written for Bryley since 2015.