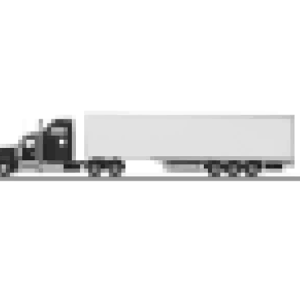 How many van lines write on the backs of their trailers something like, 'our employees are our biggest asset'? Could be true. Trucking is hard and lonely. The hours are long; the accountants under government restrictions calculate drivers' time to maximize profit in a competitive field. And the hours are mostly passed in monotony. And somehow they've got to stay alert. Lives in the tiny cars around them depend on it. They're responsible for tens of thousands of dollars of machinery and maybe more in cargo. They've got to continuously skillfully navigate a forty x ten foot wall at sixty-five miles an hour.
Keep on Truckin'
While you may not have a life-and-death-in-the-hands-of-your-employees sort of business like a tractor-trailer line, your employees still protect a lot when your organizations' data is in their hands. This data may include the company's projects, banking, databases, contracts, research, records, intellectual property, access in a supply chain and more. And if that data is suddenly inaccessible, how much of your operation – how many of your projects, employees, business functions … just stop?
According to IBM's 2020 Cost of a Data Breach Report, human error is behind nearly twenty-five percent of data breaches: an inattentive employee is a real threat to your business' systems and data. Help prevent your employees from compromising your data by providing regular Security Awareness Training (SAT).
A Line of Defense or a Liability?
Criminals look for weaknesses. An eighty-year-old with a handbag is a mark on the street. Untrained employees are targets at their desks. Negligent employees can jeopardize the security, integrity or availability of your data through:
Password reuse

Reusing a password for multiple accounts is a common bad practice. The average user uses the same password across about five account logins, both personal and business.1

Accidental sharing and exposure

A moment of carelessness can lead to an employee sending credentials to a cybercriminal which can lead to your data ending up in the wrong hands.

Falling for phishing

Since the start of the COVID-19 pandemic, phishing attempts have increased over sixty percent.2 An untrained employee may find it difficult to detect these deceiving scams, which can lead to leakage of sensitive business information.
Avoiding or mitigating disruptions due to data loss, begins with developing a security-focused culture. Employees regularly refreshed in security training are more likely to follow cybersecurity best practices – helping ensure your data is kept safe. That's why the Department of Defense requires its employees and suppliers with clearance to complete an annual cybersecurity training refresher. Fresh training for your employees should incorporate the latest and shifting phishing appeals.
SAT is equivalent in preventing data loss as good backups are in recovering after data loss.
But You Hope It Never Comes to That
There are front lines and then there are backups.
During the early part of the pandemic, fifty-six percent of businesses that suffered a ransomware attack recovered through backups.3 It's likely many of those businesses could have avoided the incursions altogether if they kept their employees trained to spot cyberthreats' red flags to begin with.
Since 1987 Bryley has a record of keeping vulnerabilities from becoming catastrophes. Bryley advocates a business continuity strategy that contains layered backup with failover options, least-privilege policies and procedures, regular assessments, anti-malware, email protections and consistent SAT. For more information about Bryley's approach, please contact us at 978.562.6077 or ITExperts@Bryley.com.
Implementing the right strategy for business continuity – a strategy that includes empowering your people to be a strong front line – can help ensure your business keeps rolling along.
1 Ponemon Institute
2 Kaseya
3 Kaseya
Lawrence writes about networking and security. He's written for Bryley since 2015.