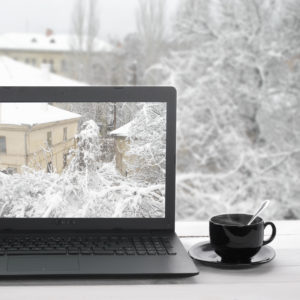 Whether or not you love or detest winter, the fact of the matter is that it's quickly advancing.  Around this time those of us in New England put snow tires on our vehicles, stake our driveways, and put sand or kitty litter in our trunks.  But what about our technology?  How can you protect it from the harsh New England weather?
Check your surroundings. Prior to turning on any heating device, make sure it is a safe distance from your technology – you do not want to risk melting portions of your device.
Keep your technology out of your trunk! Although keeping your laptop in the trunk is a far better option than leaving it in the back seat of the car, it's still not optimal. If left in a trunk for an extended period of time, severe temperatures can cause computer equipment to fail.
Let your devices warm up. How many times have you come in from the cold and had your glasses fog?  It only last a few moments until your glasses acclimate to the new temperature.  The same phenomena occurs inside your computer, but can have more severe consequences including short circuiting the device.  Drastic temperature shifts can also cause the metal components in the devices to expand and contract, potentially causing damage.  The best way to avoid this is to allow your computer to acclimate to the new temperature prior to powering the device.
Do not place any heating elements (heating pad, hair dryer, etc.) on or near the device in an effort to speed up the warming process. This can cause more harm than good.
Protect your screens. Most screens have an LCD, or liquid crystal display, and run the risk of freezing, making them more susceptible to cracking or shattering.  To reduce the risk of this occurring, reduce exposure to extreme temperatures.
Have your charger ready. Cold temperatures cause batteries to drain, so it's important to keep a charger handy to ensure maximum uptime.
Change the Power Settings. "You can keep your laptop warm by changing the power settings to power save mode. This keeps the laptop warm as it continues to run, and instead of shutting down the hard drive, it keeps it spinning. The longer the laptop can be kept running, the warmer it will stay as it generates its own heat."1
Be wary when online shopping. Online shopping is a great way to avoid the crows and get items you desire, but be wary of cyber criminals. We recently wrote an article to provide insight to protect yourself from hackers.
Keeping these tips in mind will enable you to enjoy the winter months and protect your valuable devices.
1 https://www.pcrichard.com/library/blogArticle/keeping-your-devices-safe-in-the-cold/800264.pcra
http://abc13.com/weather/winter-ize-your-technology-/467519/
http://tahoetopia.com/news/winterizing-your-computer
https://www.lifewire.com/top-cold-weather-tips-for-laptops-2377656
https://www.bryley.com/wp-content/uploads/logo-340-300x79.png
0
0
3mediaweb
https://www.bryley.com/wp-content/uploads/logo-340-300x79.png
3mediaweb
2017-12-07 06:27:21
2018-07-11 11:56:28
Is Your Technology Ready for Winter?