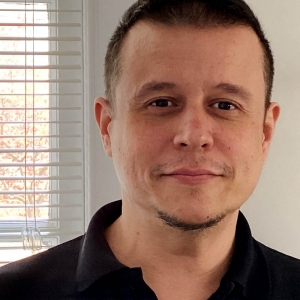 "Teaching improved my ability to diagnose all kinds of problems because interacting with the students I got to see problems from so many different angles. And that's made my role at Bryley a lot easier," Myk Dinis said in discussing his recent promotion to senior engineer.
Myk also said that the practice of explaining a process to someone always improves the teacher's understanding of the process. "Teaching taught me to not only look at the problem, but also the entire process that led to the problem. Then I can see what has gone wrong and fix it. Somebody may ask me a question that they think is crazy, but I never think that. Instead I analyze what led to that thought."
Myk got his technical education at Lincoln Technical Institute where Myk's teachers recognized his ability to communicate complex ideas. Before he knew it, he was a member of the faculty.
And the perspective he gained teaching helps account for some of his successes at Bryley. Besides his teaching credentials Myk holds the following certifications: CompTIA A+, Network+ and Security+, VMWare VCP-DCV6 and Meraki CMNA. Myk's manager, Kristin Pryor said, "clients are always commenting on Myk's patience. He has the right frame of mind to help people through trying technical situations, whether those be, 'I forgot my password' all the way to implementing a new network."
"I really enjoy working at Bryley," said Myk, "because it presents me with a full range of challenges to work on."
Information Technology reached some puzzle-loving part of Myk from his earliest encounters with computers and networking. "I've just always felt comfortable with computers," Myk said. "It's pretty easy for me to figure it out when something goes wrong. Computers never have a bad day. There's always a logical solution to unravel."
And beyond his day-to-day engineering Myk also literally relies on his teaching expertise to conduct one-on-one training and group seminars and webinars.
One of the benefits of a patient IT helper like Myk, is that Bryley's clients end up in a stronger position by being better-informed. A principal at a technology firm wrote that Myk was "very patient and professional – firsthand I can see why clients enjoy working with him." A real estate company administrator wrote, "Myk consistently gets us out of trouble with his quick analysis and response."
Myk said he appreciates that "every day at Bryley is different," so he looks forward to a future of working with Bryley clients whether to inform them or solve their IT problems.
Lawrence writes about networking and security. He's written for Bryley since 2015.